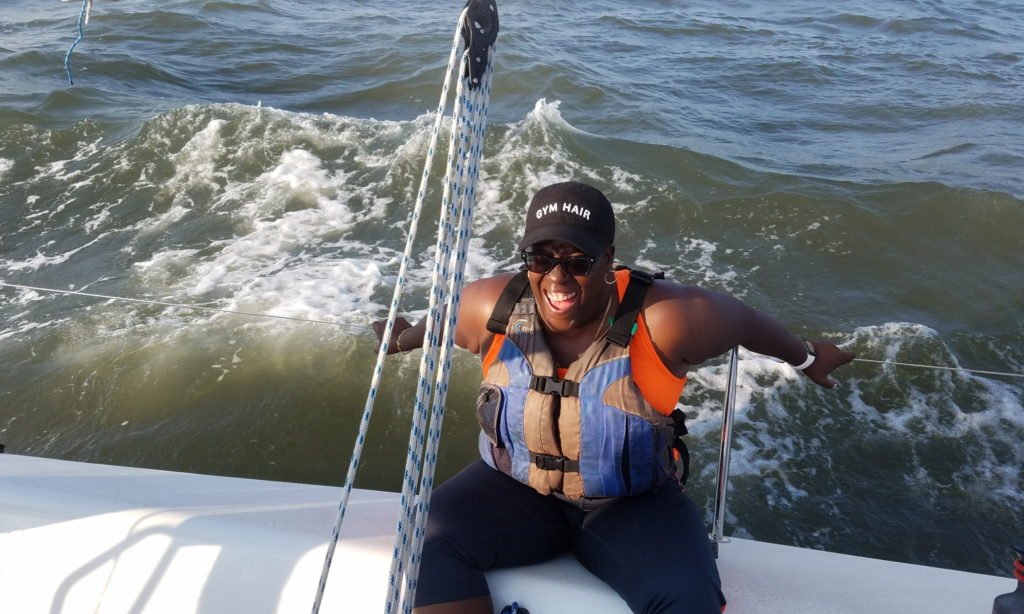 Sunday, August 30th, 12:30 pm–4 pm
$95 Special Pricing*
*Suggested Donation: $75 per participant
We will be taking a three-hour introductory sailing lesson. We will gather on the beach 30 minutes before the lesson to take care of preliminaries such as safety instructions, a brief overview of the parts of a sailboat and its controls, and getting into life jackets. After the lesson, we will celebrate our initiation into the world of sailing (see Celebration below for details).
Shades of Black Making Waves is teaming up with Hudson River Community Sailing (HRCS) to offer a special opportunity to discover the joy of sailing while also raising money for great causes!
Here is how it works. Make a donation to a non-profit of your choice that is working to make black lives better. Sign up, tell us about your donation, and you will be registered. (We suggest a donation of $75.)
You will learn how to control the sails, and make boats move with only the power of the wind. Our boats are small and fun. With only 3–4 participants on each boat, there will be plenty of time to experience the various roles aboard, or just kick back and enjoy the wind and waves.
You will also learn about HRCS, and how it uses sailing and boat building in youth development to prepare students to succeed in the classroom and beyond.
Location
The sailing lesson will be held in the Inwood section of Upper Manhattan, easily reached by subway on the A and 1 trains to Dyckman Street.
Hudson River Community Sailing
Dyckman Street Boat Marina
350 Dyckman Street
New York, New York 10034
(212) 924-1920
Google Maps
COVID-19 Policies
Let's stay safe while having fun. Please see HRCS's COVID-19 Policies. Among other things, we will be observing social distancing of at least six feet and wearing masks at all times.
Preparation
Watch Your First Sail
Celebration
After our life-changing introduction to sailing, we will gather next door at The Hudson to swap tales of our adventure. Order and pay for your food and drink then eat at tables outdoors while maintaining social distance.
The Hudson
(Next door to Hudson River Community Sailing)
348 Dyckman Street
New York, NY 10034
(646) 663-5886
Menus
Let's go sailing!